Protection Agency Security Service
24 years ago Security Service – Protection Agency in Łódź began private facility protection in Poland. Thanks to our long-term experience we know how to care about properties our clients entrust us with. Our advanced recruitment system, mobile intervention units, as well as a professional management team is the assurance of security of your facility. Choosing our offer is the right decision.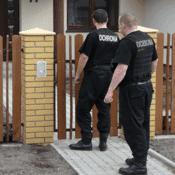 Personel
Nasza agencja ochrony to przede wszystkim wykwalifikowany zespół pracowników, który składa się z  grupy interwencyjnej, ochroniarzy stacjonarnych oraz doświadczonych koordynatorów. Staranny dobór personelu oraz regularne szkolenia przekładają się bezpośrednio na jakość świadczonych przez nas usług. Posiadamy nowoczesne zaplecze sprzętowe, a przede wszystkim dbamy o profesjonalne i sprawne wyposażenie naszych pracowników. Mamy świadomość, że personel firmy ochroniarskiej stanowi również istotny element wizerunku przedsiębiorstwa czy instytucji, dla której świadczy usługi, dlatego kładziemy nacisk na wysoką kulturę osobistą oraz umiejętności interpersonalne naszych pracowników.
Ochrona mienia
Kompleksowa ochrona mienia to oferta, którą kierujemy przede wszystkim do przedsiębiorców, organizatorów imprez plenerowych oraz eventów, a także administratorów budynków komercyjnych oraz publicznych. Usługi naszej agencji ochrony dostosowujemy do indywidualnych potrzeb Klienta. Rzetelnie opracowujemy system ochrony mienia, który najlepiej sprawdzi się w danym obiekcie, zarówno pod względem poziomu bezpieczeństwa, jak i optymalizacji kosztów.
Serdecznie zapraszamy do współpracy.
Security Service Offers:
Full-time protection: permanent posts in public facilities, shopping centers, production facilities, offices and hotels. We provide security guards for check-in desks in companies, hotels, apartment buildings and parking lots.
Security Service provides :
mobile lodges for security guards (optional service in the absence of fixed lodge for the security guard on the protected area)
electronic worker surveillance protection "GUARD ", working online via a GPRS link  and GPS
24 hour security guard supervision from our dispatch unit via wireless connection
Intervention patrol support
installation of alarm systems in the protected object (optional service after prior consultation with the client)
monitoring the alarm systems installed in the protected site (free service)
installations and technical support of CCTV cameras with recording and playback features (optional service after prior agreement with the customer)
allocating a Permanent Security Coordinator for contacts with the client
daily patrol the protected object by Intervention Patrols
security uniforms
Security Service – Protection Agency offers securing all kinds of mass events, team building events or parties. For these events we delegate only employees who underwent a special training, and who are familiar with the possible threats and know how to react properly. Security Service secures all the Dog Shows – national and international, concerts, and charity city events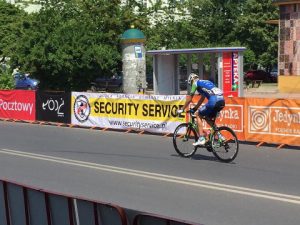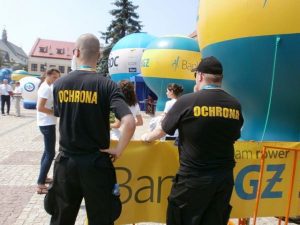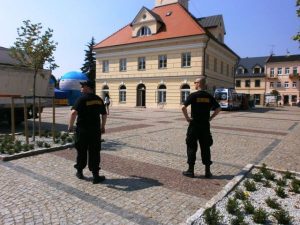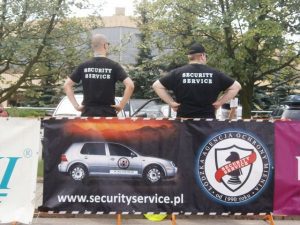 Mobilna ochrona obiektu oraz jego zamknięcie i otwarcie
Jeśli jesteście Państwo Właścicielem, Administratorem, Zarządcą budynku i terenu który winien być chroniony. Możecie zmniejszyć do 80% koszty ochrony fizycznej. Pracownika ochrony zastępuje patrol koordynatorów ochrony, który w odstępach czasowych sprawdza prewencyjnie chroniony obiekt oraz zabezpiecza go pod względem jego zamknięcia/otwarcia. W przedstawionym pakiecie obsługiwane są również alarmy generowane z systemu alarmowego bądź kamer CCTV, zainstalowanych na ochronionym obiekcie. W przypadku wzbudzenia alarmu grupa interwencyjna podjeżdża na obiekt i podejmuje działania operacyjne celem zatrzymania sprawcy włamania i zabezpiecza chroniony obiekt.